Every experienced gamer asked to name the best studio creations from Poland without hesitation will name Cyberpunk and Witcher. This is not surprising because the interest in The Witcher, which did not complain about lack of popularity, Netflix has increased. This movie giant filmed two seasons of The Witcher with Henry Cavill.
By the way, you can watch them and other movie series via Zoshy Movies app. This and other apps for Android can be downloaded for free on specialized trusted Internet resources, such as https://lifeinsoft.com. But if we pay attention to the results of the creative work of Polish studios, we will find other fascinating games that deserve to be able to say some laudable things about them.
This War of Mine
The main message of this game is: «As long as there is no war.» And to make that more precise, this indie game can be played by gamers as simple people forced to fight in wartime. The main task is to survive at any cost. According to the scenario, the characters are forced to live in a house damaged by enemy shells.
And now they have to do something, and leaving the house and going out on the streets is hazardous. However, sitting in the place is not an option either because winter is close and very little food is left. It is in such difficult conditions that the characters have to adjust them. They must plug holes, equip sleeping places, look for food, and try not to go crazy.
In this case, the characters have many options, but which one will they choose? Will they steal from their comrades? What if they start killing to get some food? Every man who rushes to answer that he probably won't do that must consider that stealing is the only way to save his friend, who is gravely ill and lies at home. There are many similar situations in This War of Mine.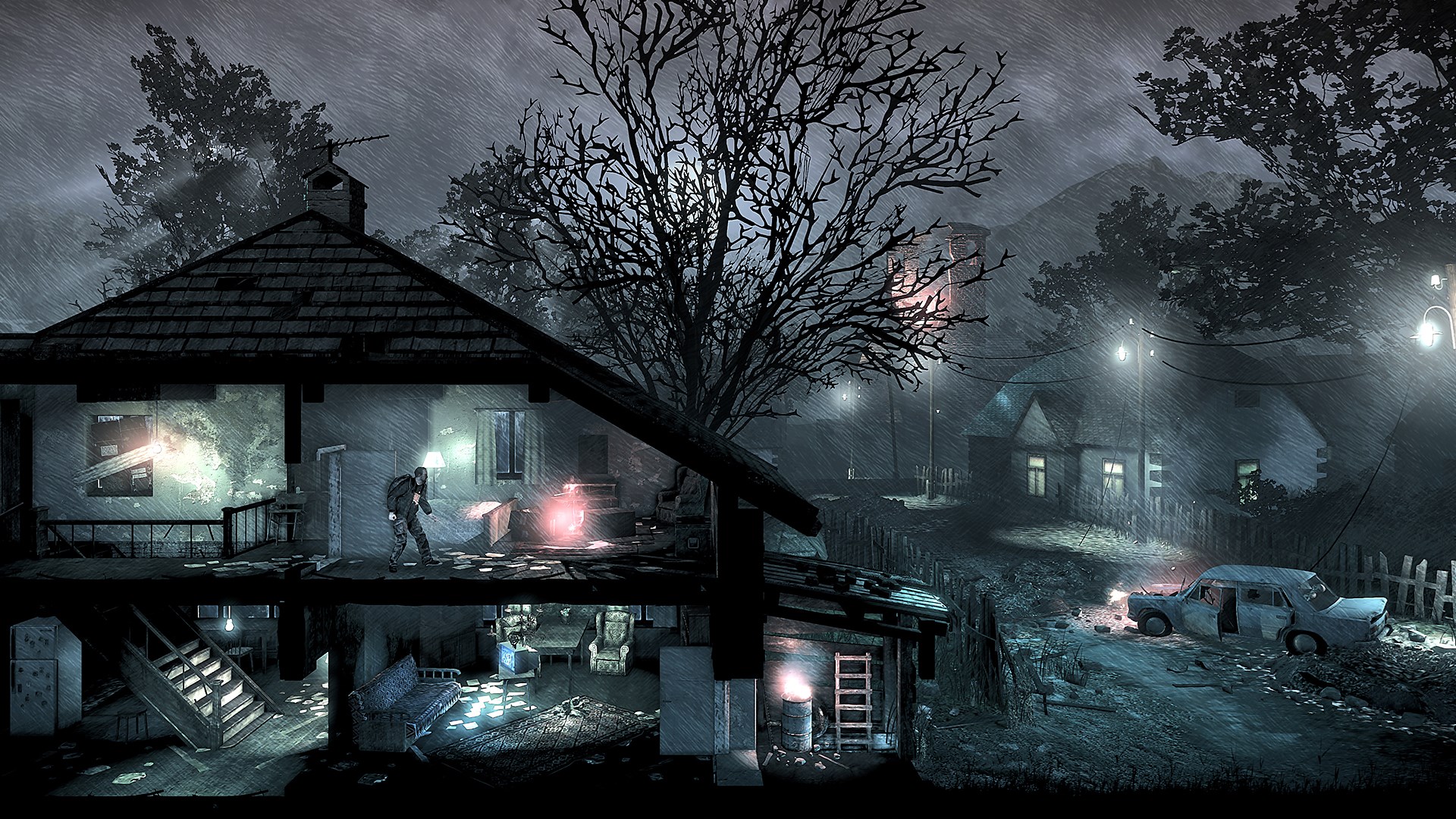 Frostpunk
Like the previous one, this game was also created by guys from 11-bit studios. However, Frostpunk transfers gamers to a world of alternative futures in which terrible frosts rage up to 120 degrees Celsius. The player's task is to manage the city, where residents are primarily interested in surviving the cold.
And the gamer has to constantly think about how to protect the inhabitants and feed and warm them. If the population decides that the control of their Chosen is too weak, then they, without a thought, will immediately push him out of the gate, and he will die of frost.
It is challenging for us to describe all the benefits of Frostpunk. You should try this game and understand why it has such tremendous popularity.
Chernobylite
This game is similar to the S.T.A.L.K.E.R. That's why you can play this project in anticipation of the second part of the famous shooter from G.S.C. Game World. It would help if you managed a former Chornobyl plant employee who lost his wife to the Chornobyl explosion. But after many years, she began to appear in his dreams and gave him strange instructions.
To understand the situation, Igor has to form a team, build a base, build equipment, and perform tasks, collecting documents based on which you can understand what happened. At the same time, trained soldiers will confront the main character, monsters from some unknown dimension, and the main boss, the Black Stalker.
Also, you should hear about Bulletstorm, a great shooter from Shadow Warrior 2. Also, you better turn your attention to the Superhot unusual meat grinder, a sniper simulator called Sniper Ghost Warrior Contracts 2, Ghostrunner, and the horror movie The Medium and Carrion.
As a result, they all tell you that the gaming industry in Poland demonstrates a high level of development and presents gamers with very high-quality game projects.